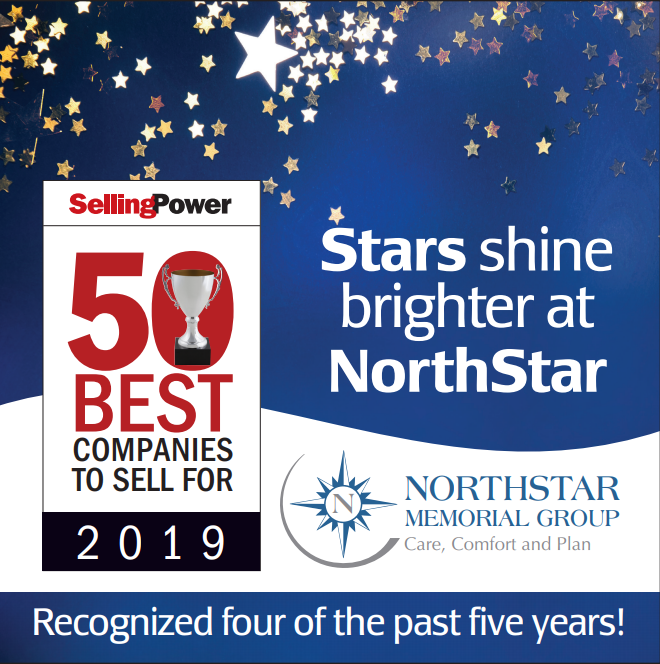 NorthStar Memorial Group Earns Coveted Spot on Selling Power's 2019 list of '50 Best Companies to Sell For'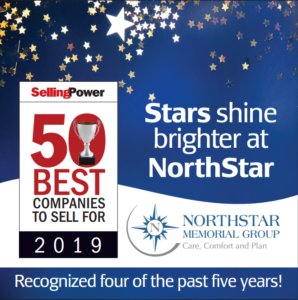 HOUSTON (September 6, 2019) – NorthStar Memorial Group today announced its inclusion on the Selling Power 50 Best Companies to Sell For in 2019. Each year, the corporate research team at Selling Power magazine assembles and publishes its list of the 50 Best Companies to Sell For. This is the 19th consecutive year the list has appeared in the magazine and the fourth year in the past five that NorthStar has been included on the exclusive list.
"Securing a spot on Selling Power's '50 Best Companies to Sell For' is a proud achievement that reflects NorthStar's commitment to caring for people. Our commitment begins with caring for our own team which, in turn, allows our team to better care for the families we serve," said Tom Reichert, senior vice president of sales at NorthStar Memorial Group. "We congratulate all of our dedicated and passionate professionals who work tirelessly to provide excellent service to each family we serve."
The list encompasses companies of all sizes – with sales forces ranging from fewer than 100 salespeople to companies with salesforce numbers in the thousands.
Selling Power magazine founder and publisher Gerhard Gschwandtner said it's vital to recognize companies that are creating excellent sales teams today.
"Successful sales teams know how to embrace change," he said. "Each organization featured on the '50 Best Companies to Sell For' list represents an elite, agile environment that understands how to lead in their market."
About NorthStar Memorial Group
Founded in 2004, NorthStar Memorial Group is a privately held funeral, cremation and memorialization company founded on the belief that passion, accountability, courage and transparency are the keys to building a successful organization. The Houston-based company has more than 75 locations in ten states and almost 2,000 employees. For more information about career opportunities with NorthStar, please visit www.nsmg.com/careers.