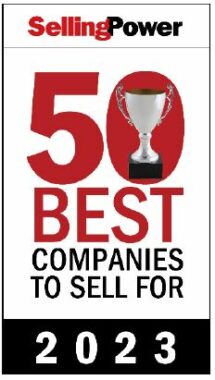 NorthStar Memorial Group Featured on Selling Power's 50 Best Companies to Sell For in 2023
We are pleased to announce that NorthStar Memorial Group is once again listed as one of Selling Power's "50 Best Companies to Sell For." This is the seventh year in a row that we have been listed, moving up 10 positions since 2020 to our current spot at 26!
To assemble the list, Selling Power assesses companies across four main categories:
• Compensation and benefits
• Sales culture
• Onboarding and sales enablement strategies
• Sales training and coaching
We are proud to rank so highly in these categories. Selling Power magazine founder and publisher Gerhard Gschwandtner says, "The companies who earn a spot on the list are truly world-class sales organizations."
At NorthStar we believe that "the whole company is the sales department" – our philosophy engages the entire organization in the success of our sales process. We work together with all departments as a team to ensure all families that call us are provided the best service and options available. This important aspect of our culture makes us unique, and it contributes to meeting our mission of serving more client families each year, as well as fostering a robust culture where we are leading our profession in our markets.
Congratulations to all on this repeated honor!
The full ranking of Selling Power's 50 Best Companies to Sell For in 2023 can be viewed here:
SellingPower.com/50-best-companies-to-sell-for.