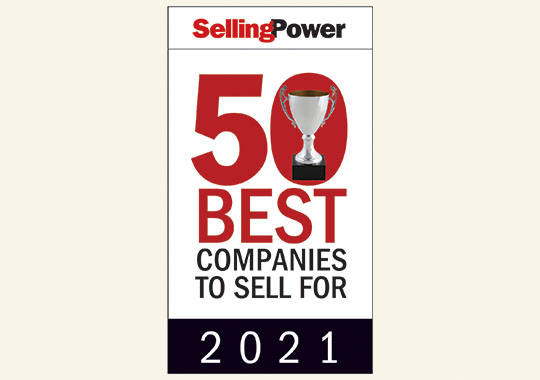 NorthStar Memorial Group Makes Selling Power Magazine's Exclusive List for 5th Year in a Row!
For the 5th year in a row, Selling Power Magazine has ranked NorthStar Memorial Group one of the 50 Best Companies to Sell For in the United States! NorthStar's rank soared to #29 this year, up from #32 in 2020, competing alongside companies of all sizes, including Fortune 500 giants like Aramark, Whirlpool, Ecolab, and many others.
To determine this year's rankings, the Selling Power research team issued a comprehensive application to evaluate companies on the list, with detailed sections covering these categories:
Compensation and benefits
Sales culture
Onboarding and sales enablement strategies
Sales training and coaching
Sales Force Support via innovative virtual selling solutions to adjust to the impact of COVID-19
"The companies who earned a spot on this year's list have truly world-class sales organizations," says Selling Power Magazine Founder and Publisher Gerhard Gschwandtner. "In addition to providing superior onboarding and ongoing sales training, they quickly pivoted their strategy to give their sales reps the tools and skills they needed to succeed in today's digital, remote selling environment."
NorthStar Memorial Group is proud to be ranked among other respected and prestigious organizations of all sizes. Our people are at the heart of what we do, and we are honored that you've chosen to call NorthStar home. Cheers to an incredible 2021 and all that you do to help make NorthStar a great place to work. "We are humbled by our continued success that wouldn't be possible without our incredible associates and the amazing culture that thrives within NorthStar," added Tom Reichert Chief Sales Officer of NorthStar Memorial Group.
About Selling Power
In addition to Selling Power, the leading digital magazine for sales managers and sales VPs since 1981, Personal Selling Power, Inc. produces the Sales Management Digest and Daily Boost of Positivity e-newsletters, as well as videos featuring interviews with top business executives. Selling Power is a media sponsor of the Sales 3.0 Conference, which is attended by a total of more than 4,500 sales leaders each year. For additional information, please visit http://www.sellingpower.com/.