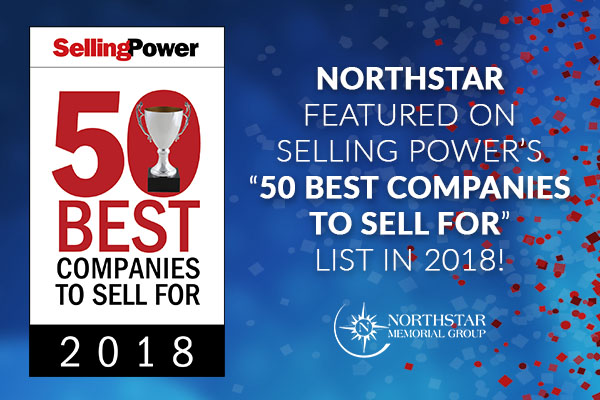 NorthStar Memorial Group Makes Selling Power Magazine's Exclusive List
NorthStar Memorial Group remains on Selling Power magazine's exclusive list for the second year in a row as one of the best companies to sell for in 2018. Each year, the magazine's corporate research team assembles and publishes the Selling Power 50 Best Companies to Sell For list. This is the 18th consecutive year the list has appeared in the magazine.
To determine rankings, the Selling Power research team issued a comprehensive application this year to evaluate companies on the list, with detailed sections covering these categories:
Compensation and benefits
Sales-rep onboarding and sales enablement
Sales training and coaching
Sales culture
Selling Power magazine founder and publisher Gerhard Gschwandtner says it's vital to recognize companies that are creating excellent sales teams today. "The companies on this year's list represent the future of selling," Gschwandtner says. "We are living in the age of sales enablement. To win at an elite level, salespeople need the support of excellent sales training, the right technology and greater sales coaching. The 50 Best Companies to Sell For have made the right investments, culturally and financially, to make sure their salespeople have every advantage as they compete to win deals and generate more revenue."
The list encompasses companies of all sizes — with sales forces ranging from fewer than 100 salespeople to companies with sales-force numbers in the thousands.
Find out what it takes to be part of our winning team. 
About Selling Power

In addition to Selling Power magazine, the leading periodical for sales managers and sales VPs since 1981, Personal Selling Power, Inc., produces the Sales Management Digest and Daily Boost of Positivity email newsletters, as well as a series of five-minute videos featuring interviews with top executives. Selling Power is a regular media sponsor of the Sales 3.0 Conference.